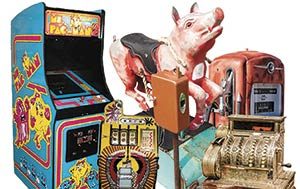 Zurko Promotions' semi-annual event is a must-see for all pop-culture enthusiasts and collectors everywhere. The Windy City Coin Op & Advertising Show & Sale is a two day event that features buyers and sellers from all over the country. Some of the items being sold at the event include vintage/collectible slot machines, arcade games, video games, movie posters, old signs, and so much more. Due to the intense volume of attendees, there are indoor and outdoor spaces available for vendors to set up shop.
Zurko's Midwest Promotions, a 48-year promotions company, works hard to promote antique flea markets, flea markets, civil war shows and specialty shows in the Midwest and all over the country. With about 40 venues a year, the promotions company hosts multiple flea market events such as the Grayslake Illinois Antique Vintage Flea Market, the Wheaton Illinois Antique Vintage Flea Market, the Pheasant Run Illinois Vintage Market, the Centreville Michigan Antique Flea Market, and the Eagle River Wisconsin Antique Flea Market. Every month there's something exciting happening, so check out their website for event dates.
The Windy City Coin Op & Advertising Show and Sale will take place on March 30th and the 31st at the DuPage County Fairgrounds in Wheaton, Illinois. The fairgrounds are composed of 5 separate buildings, covered sheds, open-air space and room for large tents. A special designated "Car-Corral" will be available for vintage and collectible cars to buy, sell, show, or trade. Restoration services will also be on hand for many coin-op collectibles. Soon to be announced are special guests, lectures, and seminars that will be
available to attendees.
If you are a huge fan and a seller of all things collectible comics, vinyl records, soda machines, jukeboxes, phone booths, and the like, you might want to think about signing up for the next show on October 26th and the 27th. An outdoor 40' x 20' space is $75 per space, a pavilion 20' x 10' space is $95 per space, an indoor 10' x 10' space is $145 per space, an indoor 16' x 10' is $185 per space, and 8' tables are $9 each. You can also purchase electrical for your space, which is $25 based on availability. Vendor set up is Friday from 7am to 6pm and Saturday from 7am to 9am. For more information on selling at their next show, be sure to call 715-526-9769.
Attendees and vendors are welcome to stay at the designated Pheasant Run Resort hotel, only minutes away from the DuPage County Fairgrounds. For discounted room rates, call the hotel at 1-630-584-6300. Early admission buyers can start on Friday from noon to 6pm and the tickets cost $50 each, while regular admission costs $7 and takes place Saturday from 9am to 5pm and Sunday from 9am to 3pm. Children 12 years and younger are free when accompanied by an adult. Tour buses and new dealers are always welcome and there is free parking on the fairgrounds. Don't miss this semi-annual event!