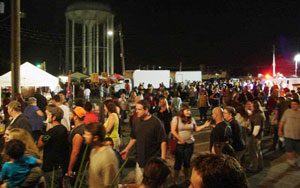 It's legends galore, fleas and more at the 43rd Annual Legendary All Night Flea Market in Wheaton, Illinois. From 3pm to 3am on Saturday, August 17th, the DuPage County Fairgrounds will come to life with celebrities, artists, great food and lots of shopping.
This year's spectacular array of celebrities puts a new meaning to the phrase "Meet the Stars under the Stars," as this will be a once in a lifetime opportunity to meet Tony Dow and Jerry Mathers from 'Leave It To Beaver' and two-time Emmy and People's Choice Awards Kristy McNicol.
In addition to these legends, Scott Beaderstadt will also be at the event. Best known for his critically acclaimed self-published TROLLORDS, he's also done work for Marvel, DC and Archie Comics. Other celebrities who will be in attendance include Deadgar Winter from 'Deadgar's Dark Coffin Classics,' Rick Goldschmidt who is the official historian/biographer for Rankin/Bass Productions, and the paranormal podcast cew from Bob After Dark, among others.
This widely acclaimed flea event will include thousands of treasures from hundreds of vendors including antiques, folk art and crafts, closeout merchandise, shabby-chic, housewares, country farm, industrial, advertising, coins, collectibles, and much more. Food and beverages will also be on site, both indoors and outdoors.
The All Night Market is listed as one of America's Top Ten Flea Market Events by The Travel Channel, National Geographic, The Antique Trader and others. This eclectic event draws dealers and buyers from all over the Midwest. Held rain or shine, admission is $9 for adults and children 12 and under are free. Tickets are available at the DuPage County Fairgrounds ticket booths and parking is free.
All Night Market
Saturday August 17th: 3pm – 3am
ADM: $9, children 12 and under free
DuPage County Fairgrounds
2015 Manchester Rd,Wheaton, IL 60187
www.zurkopromotions.com/wheaton-illinois-all-night-flea-market