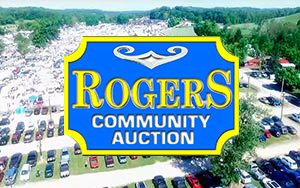 Repeatedly voted "The Best Flea Market in Ohio" by Ohio Magazine, Rogers Community Auction offers 1600 indoor and outdoor vendors for guests to shop. On top of the weekly flea market, Rogers Community offers auctions throughout the year as well as select Saturday markets to enjoy. With free admission and free parking, it's the perfect weekend event for the whole family! 
Located midway between Cleveland, Ohio, Pittsburg, Pennsylvania and Wheeling, West Virginia, Rogers Community Auction & Flea market is the largest open air market in the Tri-state area. The grounds consist of 250 total acres, with 70 acres of free parking and over 1600 indoor and outdoor vendors spaces. Open year-round, their regular Friday market can host up to 50,000 visitors on one day alone during their peak season. 
Rogers Community offers many different auctions throughout the year, including weekly Wednesday Hay & Grain Auctions at 1 p.m., weekly Friday Miscellaneous or Baked Goods, Fresh Eggs, Plant & Produce Auctions at 5 p.m., Spring Plant Auctions in season, weekly Friday Small Livestock Auctions at 6 p.m., and monthly second Tuesday Consignment Auctions. Details for their numerous auctions can be found on their website at http://rogersohio.com/auctions-2/. 
Rogers Community Auction & Flea Market
Open Fridays year-round at 7:30am – closing times vary
45625 St. Rt. 154
Rogers, OH 44455
Telephone: 330-227-3233
Website: rogersohio.com