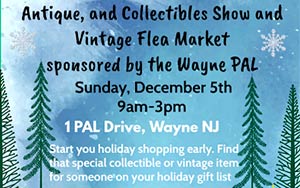 The Wayne Police Athletic League (PAL) is getting festive with their monthly indoor Antiques and Vintage show. Taking place on Sunday, December 5 at Wayne PAL building in Wayne, New Jersey, they will host a Vintage Holiday Market. This will be the perfect place to sell your Christmas decor and gifts, and to find something for that special someone.
The Wayne PAL Vintage Holiday Market will run from 9am – 3pm and feature over 110 vendors under one roof selling a wide variety of antique, vintage, collectibles items including Christmas ornaments, figurines, and decor, costume jewelry, Lenox, figurines, and more. Admission is just $1, and children 12 and under are free.
The Wayne PAL Antique and Collectibles show and Vintage Flea Market is held on the first Sunday of each month from November 2021 through April 2022. New vendors are always welcome, simply contact the Wayne PAL at 973-696-2896 or email janieg55@hotmail.com for more information. Eight foot tables are provided and each spot costs $30. Face masks are strongly encouraged, but are not required at this time.
Wayne PAL Vintage Holiday Market
Sunday, December 5: 9am – 3pm
1 PAL Drive
Wayne, NJ 07470