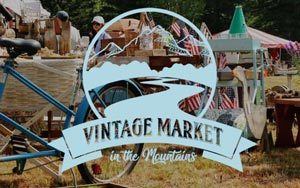 Both vendors and buyers can start getting excited as flea markets and festivals open their doors for the summer season. The end of May and all throughout June brought tons of market openings, and July presents even more opportunities to snag a good bargain. This annual market date falls in July every year, and they want to assure everyone that safety is their top priority while making sure both buyers and sellers have a good time.
Taking place July 25 – 26, 2020, Vintage Market in the Mountains is held at the Wayside Inn in Bethlehem, New Hampshire every year. This market will feature antiques, art, clothing, home decor, and bespoke treasures. Live musical performances, food trucks, and a beer garden are only part of the fun at this weekend-long event that draws vendors from across the upper Atlantic area.
To help keep vendors, shoppers, and staff safe, according to a Facebook post, Vintage Market in the Mountains will have special shopping hours just for the eldery vintage lovers as well as hand sanitizing stations all around the market. They will be following the official direction to make sure everyone can enjoy the market while staying safe and healthy.
There is a little bit of something for everyone at the Vintage Market in the Mountains. General admission is $5 and kids 12 and under are free. It's also a pet-friendly event, so feel free to bring your furry friends!
Vintage Market in the Mountains
July 25: 8:30am – 5pm
July 26: 8:30am – 4pm
Tel.: 603-869-3364
vintagemarketinthemountains.com