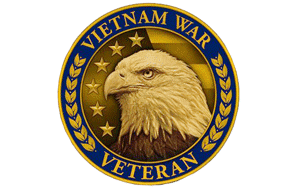 Mesa Market Place is hosting another free event, and this time it's to honor all Vietnam Veterans in their 50th Anniversary Commemoration Official 'Pinning Event.' The public and all Vietnam Veterans are welcome to attend and it will take place at Mesa Market Place on Saturday, March 2nd at 11am. Parking is also free and they are fully handicapped accessible.
Each Vietnam Veteran attending will receive a pin depicting an eagle that represents courage, honor, and dedicated service to the nation. "A Grateful Nation Thanks and Honors You" is inscribed on the back of the pin. Major General James T. Jackson U.S. Army (retired), Director, the United States of America Vietnam War Commemoration, will conduct the pinning.
This Vietnam Veterans 'Pinning Event' was instituted by the U.S. Government to thank and honor Vietnam veterans and their families for their service and sacrifice. The Pinal County Veterans Memorial Foundation is sponsoring this event, and The Brookharts and Howard Schneider will provide music throughout the time period.
The fun doesn't end there, additional speakers at the event include Major General Jackson, Vietnam Veteran Chuck Byers, and author and Veteran Nancy Fassbender. The East Valley Young Marines will also perform a POW-MIA Table Ceremony. Before and after the remembrance, adults and children are invited to write notes and color pictures to go into 'Packages From Home' care packages to go to the Middle East.
Breakfast will also be available at the event. $2 and $2.50 breakfast coupons, which include two eggs, toast, and hash browns, can be found at www.mesamarket.com. Breakfast will be served at the Mesa Market Place Food Court, in the middle of the second row, Row B, from 7am to 10:30am. You can print out the coupon or show it from your phone.
Mesa Market Place is a fun and exciting flea market that is open Fridays, Saturday's, and Sunday's year-round. They frequently have live entertainment and their food court is stocked with delicious food and snacks. This enormous marketplace hosts 900 merchants during their high season so there's plenty to see and do!
For more information about the 'Pinning Ceremony,' call Joan Wells at 602-703-7682.
Vietnam Veterans Pinning Event
Mesa Market Place & Swap Meet
10550 E. Baseline Rd.
Mesa, AZ 85209
Web.: www.mesamarket.com/events