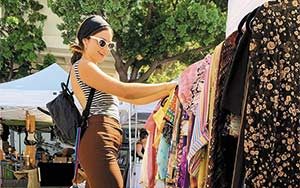 Noted as a top Los Angeles destination stop by numerous tourist websites, the Melrose Trading Post is open every Sunday, year-round, from 9am to 5pm. Each Sunday, the Melrose Trading Post offers a continuously evolving experience, including a curated selection of handcrafted artisan goods, eclectic arts and crafts, vintage fashion, antique furniture and countless one-of-a-kind treasures. 
Admission into Melrose Trading Post is only $5 and it goes towards a good cause!  Through admission and vendor fees, the Melrose Trading Post has grown to become the most successful ongoing social enterprise program in the history of Los Angeles Unified School District, awarding grants to Fairfax High School organizations for sports equipment, beautification projects, teacher programs, theatre productions and much more. Beginning in 1997 through the Greenway Arts Alliance, this market has been providing donations to the school as well as an environment of family fun for all guests. 
The popular weekly market has always featured local musicians. In 2014, the flea expanded to include even more opportunities for local artists through an outdoor, year-long series of music, dance, theater and spoken word events at the Melrose Trading Post Main Stage. Each Sunday, 5,000 to 8,000 guests come to visit the market, so make sure to get their early so you don't miss all the good deals. 
Melrose Trading Post
Every Sunday: 9am – 5pm
ADM: $5
7850 Melrose Ave.
Los Angeles, CA 90046
Website: melrosetradingpost.org