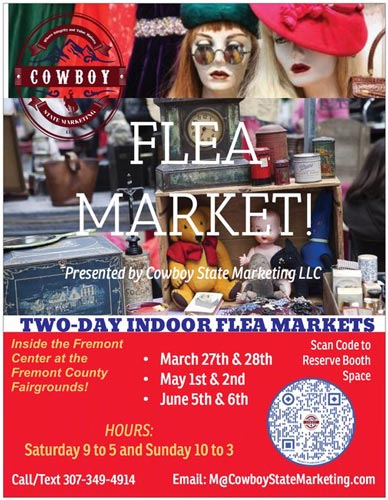 Looking for a unique pop-up market as a way to expand your horizons and build your brand name? Well you are in luck — two-day flea markets are coming to Fremont County in March, May, and June of this year. All three markets will take place on Saturday from 9am – 5pm and Sunday from 10am – 3pm. As long as you do not sell anything illegal, vendors are welcome to rent booth spaces.
The first two-day flea market will take place on March 27 and 28. Cowboy State Marketing LLC, the organization hosting the markets, is open to all sorts of products, including apparel, home decor, furniture, arts and crafts, tools, antiques, horse saddles, jewelry, and more. Selling spaces start at just $45 for both days. Patron admission is completely free, so this is a great fun weekend getaway for the whole family.
These two-day flea markets are a great opportunity for vendors to reach a broader audience and increase their customer base. Even if you are looking to just do some spring cleaning and make some extra side cash, you are invited to become a vendor. Reserving a booth is super easy, just simply use their online reservation form and no payment information is required at the reservation time: https://855gowyoming.wufoo.com/forms/mxhu87i0xkf5mk. Be sure to save the dates for the other two markets, as well: May 1 and 2, and June 5 and 6.
Fremont County Fairgrounds
1010 Fairground Road
Riverton, WY 82501
Tel.: 307-206-0035