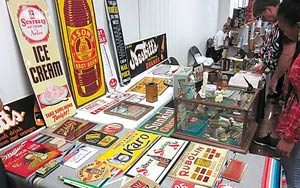 For the first time ever, the Prescott Antique Show & Vintage Market will be hosting a two-day event at the historic Prescott Rodeo Grounds. Known as the "Antique Capital of Arizona," this show offers a huge variety of quality antiques in every category as well as authentic vintage items, repurposed, rustic barn, 50's and 60's memorabilia, and so much more.
In 2006, a local chapter of the Questers (Thumb Butte) had the opportunity to take over the Prescott Antique Show & Vintage Market, and now chapter members donate all profits from these shows to local Preservation and Restoration projects. Many thousands of dollars from show profits have been given to museums, historical societies, cemeteries and other area projects.
The Prescott Antique Show & Vintage Market opens Saturday, May 23rd at 10am to early birds with an entry fee of $10, with readmission free on Sunday. General admission costs $3 starting at 1pm until closing at 5pm. Sunday general admission is $3 starting at 8am until closing at 3pm.
There will be a little something for everyone at this show. With three buildings stuffed with treasures including vintage, old, and repurposed, there will be plenty to shop all day long. There will also be dealer booths outside along Rodeo Drive, so come and enjoy a hotdog and lemonade and the sound of old time country music, jazz and blues performed by Prescott's own Parker Smith.
Prescott Antique Show & Vintage Market
May 23 – 24, 2020
840 Rodeo Dr.
Prescott, AZ 86305
Telephone: 928-443-1862
www.prescottantiqueshow.com