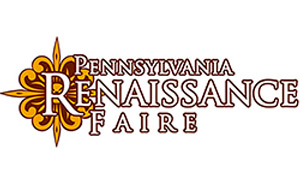 The castle gates swung wide on August 21, and the Pennsylvania Renaissance Faire continues each weekend, plus Labor Day Monday, through October 31. Each weekend throughout the Faire season will showcase an exciting and unique theme that offers a different experience every time, such as Pyrate Invasion, Wizarding & Time Travelers, and Oktoberfest.
Get ready to live the excitement and adventure of jousting knights and royal delights with colorfully costumed villagers and merrymakers ready to make your visit an unforgettable experience. Musical, stunt, and theatrical performances, magic acts and comical mud beggars are just a few of the many daily shows. Each public faire day, there will also be a Pub Crawl, hosted by The Washer Wenches and Abe Froman, Sausage King of the Shire. The Pub Crawl leaves from the Informistress at 4:45, and guests can laugh, sing, and stumble their way through the Shire on a guided tour to three stops to enjoy a sample of Swashbuckler Brewing Company Beer or Lancaster County Cider, with a final stop at O'Malleys to enjoy one last sample paired with saucy entertainment and a salty pretzel. Each ticket costs $20 and must be paid for in advance at their virtual box office: www.parenfaire.com/buytickets.html.
General admission tickets for the Pennsylvania Renaissance Faire are $30.95 each, children 5-11 cost $15.95 each, and children four and under are free. Gates open at 11am each public faire date, every weekend until October 31.
Pennsylvania Renaissance Faire
Weekends, August 21 – October 31
2775 Lebanon Rd.
Manheim, PA 17545
www.parenfaire.com