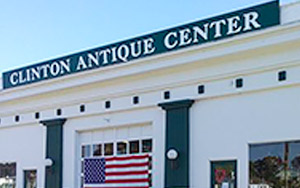 With 6,000 square feet of quality antiques and collectibles, The Clinton Antique Center is the place to find that one-of-a-kind buy to complete or start your collection. This multi-dealer shop has about 100 vendors each week offering treasures at a bargain.
Located in Clinton, Connecticut, The Clinton Antique Center is a family owned and operated business. Their passion for collecting interesting and unique pieces is evident everywhere you look inside the building, and there is truly something for everyone. Guests can shop around and look at different antique home decor items, decorative signs, delicious pies, and so much more.
The Clinton Antique Center is open Sundays through Tuesdays from 10am – 5pm, and Thursdays through Saturdays from 10am – 5pm. They are also a member of AntiqueTrail.com, which is an online antique store directory, which includes a website, photo tour, description, and map for 1,409 antique and vintage shops, malls and shows.
The Clinton Antique Center
78 E Main St.Clinton, CT 06413
Tel.: 860-669-3839
www.clintonantiquecenterct.com