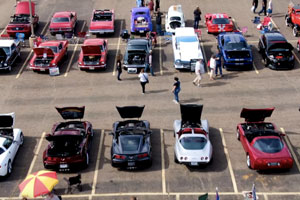 Join the Hartville Marketplace and Flea Market for an entire weekend of vintage cars and good family fun! Whether you are looking to browse the swap meet, sell your treasures, or enter your car into the car show, this is a great opportunity to take advantage of the last little bit of summer. 
The third annual Hartville Americana Show is a free event that takes place on 12 acres and features classic and custom cars and trucks on display, a swap meet, live music, and food trucks. Taking place August 5-6, come enjoy the car show on Saturday, August 6, grab a bite from a food truck on either day, listen to live music from Out of Eden, or simply hang out with friends and family and enjoy the summer vibes. 
Three Shows — One Event
All taking place over the course of the weekend will be the Vintage Car Show, the Petroliana, Gas, and Oil Show, and the Swap Meet featuring general and American antiques and vintage merchandise. If you are interested in becoming a vendor, click here for more information and to fill out the vendor application. 
The Vintage Car Show
Beginning at 10am on both Friday and Saturday, all cars are welcome to this Vintage Car Show. You can register your car upon arrival, and the entry fee is $10 per car. The first 100 cars will receive a free dash plaque, so be sure to get there early! Awards will be given out on Saturday at 4:30pm for Best Overall car, and Best of Each Decade starting at the 1920's through the 1970's. 
For more information on the event, visit www.hartvillemarketplace.com. 
Hartville Marketplace & Flea Market
August 5-6, 2022
1289 Edison St. NW, Hartville, Ohio 44632
330-877-9860