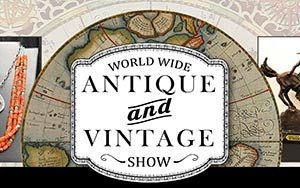 Now in their 44th year, the World Wide Antique & Vintage Show, held in Denver, CO, brings together 85 to 100 antique and vintage dealers from all over the U.S. Three times a year, the Denver Mart hosts this unique antique show featuring vendors selling all different kinds of items including housewares and home decor items, collectible figurines, jewelry, instruments, toys, furniture, and more. The show's March event will take place from March 8th to the 10th in the Denver Mart's EXPO Building.
World Wide Antique & Vintage Show dealers travel the globe to find new and interesting items to bring to the show. Buyers can enjoy lunch and a cup of coffee while they stroll through the aisles. The show is constantly welcoming new dealers to their events, so to receive an application, contact Misty at 303-292-6278. Vendors have the option of choosing a 10' x 24', 10' x 10', and 10' x 40' booths. The space fee includes 8', 6', and 4' tables, chairs, wastebaskets, and a dealer sign. A $100 deposit is required with each contract, which you can send in with your application.
Admission to enter this antique show costs $5 per person for all three days, and children 12 and under are free. There is also free parking on site. If you can't make it to the World Wide Antique & Vintage Show's March event, make sure to check them out June 7-9 and October 18-20.
World Wide Antique & Vintage Show
March 8-10
Friday – Saturday: 10am – 6pm
Sunday: 11am-4pm
451 East 58th Ave.
Denver, CO 80216
Website.: www.findyourantique.com/