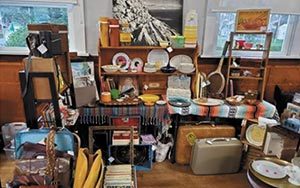 If you're looking for a place to pick up some unique items at a great price, then look no further! Vancouver Variety Market in Washington state is an indoor marketplace held twice a month on the first and third Saturday. This market features a wide variety of vendors offering new and used merchandise, household goods, vintage pieces, antiques, handcrafted works of art, pop culture collectibles, and so much more.
Vancouver Variety Market is conveniently located in the Minnehaha Grange on St. Johns Road in Vancouver, WA, near I-5 and SR 500. This flea market is always accepting new vendors, so if you're looking to sell your wares, simply fill out the form on the website at www.vancouvervarietymarket.com/vendor-info.html and they will contact you within 24 hours if your application has been approved.
Vancouver Variety Market is your destination for great bargains! Make a day out of it with the whole family or stop in for an hour or two to see what the vendors have to offer.
Vancouver Variety Market
1st and 3rd Saturday of each month, 9am – 3pm
Minnehaha Grange
4905 NE St. Johns Rd
Vancouver, WA 98661
Telephone: 360-859-6044
Website: www.vancouvervarietymarket.com