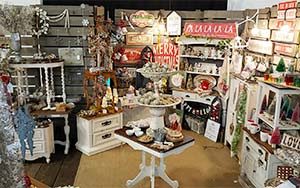 The Spare Room Vintage Flea Market has everything that a cool, funky and chic spare bedroom that your aunt's house would have. From new and used furniture to home decor and gifts, there is a little something for everyone to take home.
Beginning in 2001, this family run business has been kind of like an antique mall with spaces rented out to about 40 different vendors every day. Since their start, The Spare Room Vintage Flea Market has expanded their business to include the entire strip mall and even a building next door. There's plenty of space to shop from and find something special!
This market has furniture, garden art, home decor, chalk and clay paint, jewelry, and so much more to choose from. Starting in October, The Spare Room Vintage Flea Market is closed on Tuesdays until the spring, but they are still open 6 days a week. From Monday through Friday, the shop is open from 11am to 5:30pm, Saturdays from 10am to 6pm and Sundays from 11am to 5pm. There is a parking lot on-site for easy access.
To keep up to date on any special events or new products offered, visit the market's Facebook page at https://www.facebook.com/thespareroomfleamarket/.
The Spare Room Vintage Market
1215 State Highway 532
Camano Island, WA 98282
Telephone: 360-939-0383