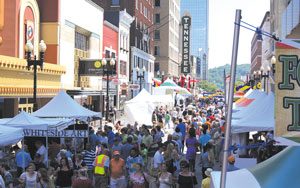 This free admission, International Street Fair is Knoxville Opera's perennial celebration of the performing arts. Over the course of 11 hours, the public is treated to non-stop entertainment on five outdoor stages showcasing everything from opera, classical, jazz, gospel and ethnic music to ballet, modern and world dance.
The next Rossini Festival International Street Fair will take place on Saturday, April 18th. This annual gift to the community has been designated a "legacy event" by Knoxville Mayor Madeline Rogero and serves as a celebration of the performing arts. Each year, ten of thousands of children and adults enjoy the entertainment provided by 750 performers.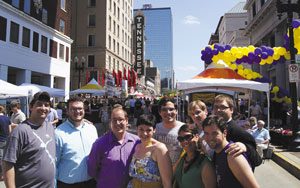 Children are always thrilled to participate in the YMCA FunZone, and adults enjoy shopping at the exhibits of over 100 prominent artisans. Dozens of food vendors provide a wide variety of cuisine and beverages, including beer and wine. This unique event transforms downtown Knoxville into a European-style pedestrian street mall appropriate for the entire family.
The Rossini Festival has entertained over 500,000 guests from East Tennessee and tourists in its first 18 years. This event was also the winner of the '2018 Special Event of the Year' awards from the Tennessee Hospitality & Tourism Association and the Greater Knoxville Hospitality Association. Don't miss it!
The Rossini Festival International Street Fair
April 18, 2020
Downtown Knoxville
Knoxville, TN 37902
Telephone: 865-524-0795
www.knoxvilleopera.com/rossini