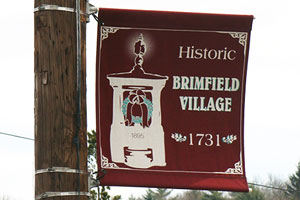 Known as the Antiques and Collectibles capital of the United States, this is one spring event that antique lovers are not going to want to miss. The May Show (May 10-15) is the first show of the Brimfield Antique Flea Markets' season, and is easily the busiest show of the year.  This is the time that you will find the freshest offers and merchandise from dealers in every field and shop.
Since 1959, Brimfield Antique Flea Markets has been the premier spot for antiquing and collecting in America and attracts buyers and exhibitors from around the world. Rare and unusual items can be found as shoppers search through one of history's greatest marketplaces. There is an excitement among customers getting caught up in the spirit of antiquing and the thrill of the hunt. Dealers are very knowledgeable about their specialties and eager to share their expertise with buyers. 
Brimfield Antique Flea Markets happens three times each year: May, July, and September. Each event has its own individual feel, and attendees can expect to see merchandise rarely seen anywhere else in the world. If you wish to rent space at the Brimfield shows, please be sure to contact the owner or manager of the specific show field that you have an interest in exhibiting with. Their direct phone numbers and other contact information can be found by simply clicking on the name of the Show Field listed on the left side of the homepage of the website brimfieldantiquefleamarket.com. 
Brimfield Antique Flea Markets
May 10-15, 2022
July 12-17, 2022
September 6-11, 2022