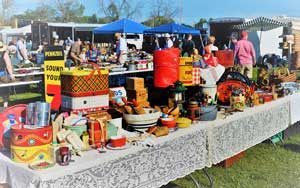 Beginning with a set of collectors and antique dealers who had the "antique bug," the Elkhorn Antique Flea Market was created in 1982. Now, the market currently sees around 500 dealers every show selling a wide range of merchandise such as furniture, glasswares, home decor, linens, toys, and everything in between. The pickin' is great, and so are the people!
The Elkhorn Antique Flea Market hosts four shows each year, their next one being held on May 19th. Most dealers sell antiques and collectibles, but others sell a wide variety of merchandise such as furniture, housewares and home decor, toys, linens, and so much more. The event also has plenty of places to eat, selling desserts, coffee, snacks, sandwiches, asian cuisine, wings, burgers, and soft pretzels, just to name a few. The Elkhorn Market won't let anyone go hungry!
No pets are allowed at this rain or shine event, but the parking is free and the market has paved walkways for easy access with strollers and wheelchairs. The Elkhorn Flea Market opens at 7am and it's $5 at the entrance gate.
For sellers who are interested in becoming a vendor, visit their website at elkhornantiquefleamarket.com for all the details. Outside spaces vary in size and cost $100, Grandstand spaces are $100 for 16'x16' on blacktop, and outside Drive-Through spaces are $130 with a much bigger space area of more than 100' deep, and 15' to 25' across the front. The dealer contract can also be found on their website.
Elkhorn Antique Flea Market
May 19th – 7am
ADM: $5
Walworth County Fairgrounds
411 E Court St., Elkhorn, Wisconsin