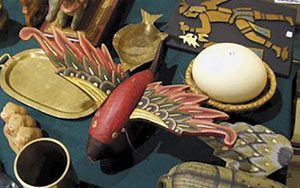 You just never know what you're going to find at The Original Medford Giant Flea Market. With events held every Sunday of each month, there are plenty of opportunities to shop for antiques, collectibles, sporting goods, tools and many more items. The next event will take place on November 10th from 9am to 4pm.
With 14,000 square feet of selling space, there is quite literally something for everyone. There will also be door prizes announced every hour from 10am through 3pm, which are a $10.00 gift certificates to the restaurant Home Town Buffet. Parking is free, and admission is $1.50 for adults and children 12 and under are free.
If you're interested in selling your products at the Original Medford Giant Flea Market, contact Dennis at 541-772-8211. Tables are regular banquet size (8′ by 2 1/2′) and the cost is $22.00 per table, set up and ready to go, or you can furnish your own table, which costs $19.00 for the space. For more seller's information, visit their website at http://www.fleaforall.net/sellers_info.htm.
The Original Medford Giant Flea Market
November 10th: 9am – 4pm
Medford National Guard Armory
1701 South Pacific Highway
Medford, Oregon 97501
Facebook: The Original Medford Giant Flea Market