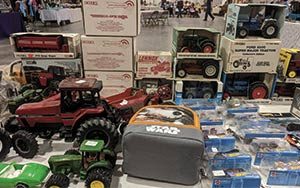 The Minot Flea Market is coming back to town, April 4 – 5, at the All Seasons Arena on the North Dakota State Fairgrounds. Attendees can find all things antiques, furniture, coins, toys, tools, books, crafts, baked goods, sports memorabilia, and more all under one roof.
The Minot Flea Market is one of the largest flea markets in the surrounding states. Taking place one weekend each February, March, April, May, September, October, and November, this flea will be open from 8am – 4pm on Saturday and 10am – 3pm on Sunday. Ticket prices are $1 each, and children 10 and under are free, so bring the whole family! There is  parking on site.
The Minot Flea Market is always looking for new dealers and sellers, so if you're interested in selling your wares at their next event, email minotfleamarket@srt.com for more information. There are plenty more dates the rest of the year, so if you can't make their April show, mark your calendars for the other event times.
The Minot Flea Market
April 4: 8am – 4pm, April 5: 10am – 3pm
2005 Burdick Expy E
Minot, North Dakota 58701
Facebook: www.facebook.com/minotfleamarket