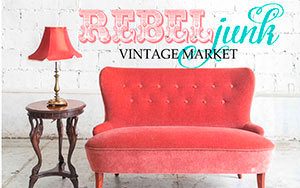 Voted as a top Traveling Vintage Market in the U.S. by Flea Market Style Magazine and one of the top 25 Flea Market in America by Romantic Homes Magazine, the Rebel Junk Vintage Market is a must attend flea, and it's coming to town again! This yearly event will be held Friday June 14th and Saturday June 15th at the Cheyenne Ice and Events Center in Wyoming.
The Rebel Junk Vintage Market is a community of the finest vendors in the area, selling the best handcrafted and hand-picked vintage goods and wares. The market is held a few times a year in different states such as Oregon, California, Washington and Idaho. Scheduled dates for the rest of 2019 can be found on their website.
The Rebel Junk Vintage Market's June event is the perfect time to bring friends and family for a day of fun. On top of the amazing food, you can shop for one-of-a-kind items such as repurposed and vintage home decor, antiques, and handcrafted goods. The market is constantly welcoming new vendors, but it's a juried event, which means they select vendors by the items that fit best with the show. Fill out the application on their website and show them what you've got.
Visitors can purchase VIP access early admission tickets online for $10. General admission for Saturday and Sunday are $5 each. You can purchase tickets online at rebeljunk.com/tickets.
The Rebel Junk Vintage Market
June 14th: 6pm – 9pm
June 15th: 10am – 4pm
1530 W Lincolnway
Cheyenne, WY 82001
Tel.: 208-277-8779