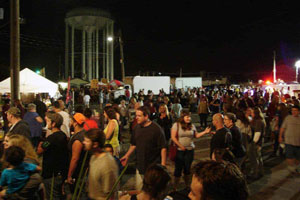 The world famous Annual Zurko's All Night Flea Market is back in town! Taking place on Saturday, August 20 from 3pm – 3am, this flea will feature celebrities, thousands of treasures to shop from, great food and drinks, and more. 
Meet Famous Celebrities
This year's spectacular array of pop culture celebrities includes Aileen Quinn, who is best known for playing Annie in the original film; Lorenzo Lamas, who co-starred as Tom the Jock in Grease, starred in Renegade, Lucha Underground, and many reality shows; and Megan Cavanagh, who is best known for portraying Mara Hooch in A League of Their Own as well as the voice of Jimmy Neutron in Jimmy Neutron: Boy Genius and The Adventures of Jimmy Neutron: Boy Genius.
Guests will also get the chance to meet comic book artist Scott Beaderstadt, who is best known for his critically acclaimed self-published TROLLORDS. He has also done work for Marvel, DC, and Archie Comics. Other well-known names who will be at the all-night flea are Rick Goldschmidt, the official Biographer for Rankin/Bass Productions and John Borowski, an award-winning independent filmmaker and author whose works have garnered international acclaim and are distributed internationally on DVD, TV, and streaming.
Late Night Fun
On top of having the chance to meet all of these celebrities, attendees can shop from thousands of treasures being sold from dealers coming from all across the Midwest. Vendors will be bringing an eclectic mix of antiques, collectibles, toys, sports collectibles, crafts, artwork, pop culture, and more. The All Night Flea Market will be held "Rain or Moonshine," as dealers will be in buildings, sheds, tents, and open air.
Admission is $10 for adults, and children 12 and under are free when accompanied by an adult. Great food and snacks will be available from a variety of food vendors, so come early and plan to spend the night. Flashlights and lanterns are optional, but fun is a necessity.
All Night Flea Market
Saturday, August 20 from 3pm – 3am
DuPage County Fairgrounds
2015 Manchester Rd, Wheaton, IL 60187
www.zurkopromotions.com