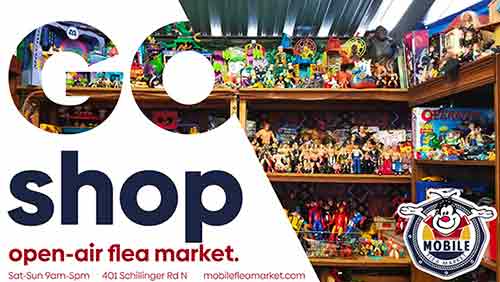 If you love to shop, then Flea Market Mobile is the place for you. They host vendors from all over the world, selling items that cannot be found anywhere else at prices that cannot be beat. Visitors can come and peruse for the day or turn it into a weekend trip and see all that the market has to offer. With free admission and free parking, the possibilities are endless!
Open Saturdays and Sundays from 9am – 5pm all year long, Flea Market Mobile is a great place to find all sorts of treasures and deals. They boast over 800 booths offering arts and crafts, pet supplies, electronics, plants and produce, jewelry, home decor, collectibles, and so much more. The market also has multiple places to grab a bite to eat on site where guests can buy burgers, ice cream, soda, funnel cakes, fresh squeezed lemonade, hot dogs, and more.
Flea Market Mobile adheres to all state guidelines regarding COVID-19 safety. Both buyers and vendors must maintain 6-feet social distancing at all times and wear face masks, and no sampling of any items is allowed. There are also safety signs posted all over the market for both buyers and sellers to follow.
Vendors looking to sell their merchandise at Flea Market Mobile can check out the seller's page on their website at www.mobilefleamarket.com/sell. They offer several booth options and accommodations as well as daily and weekend booth rates.
The market is a distributor of American Merchandiser magazines. It is super easy to become a distributor,  simply give us a call at 800-999-8281 to get your market set up to distribute our magazines.
Flea Market Mobile
401 Schillinger Rd N
Mobile, AL 36608
Tel.: 251-633-7533
Web.: www.mobilefleamarket.com