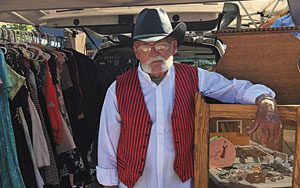 Open every Sunday year-round, rain or shine, the Georgetown Flea Market has a diverse array of vendors selling antiques, collectibles, art, furniture, rugs, pottery, china and so much more. This fun market was even featured in the novel Cadillac Jack by Larry McMurtry, so it's definitely worth visiting.
Beginning in 1972 as the brainchild of Michael Sussman, the Georgetown Flea Market sees many prominent local, national and international personalities visit the market. The crowd is just as diverse as the items for sale! There are also many interesting places to grab a bite to eat surrounding the flea.
If you're a buyer looking for a specific product, simply email info1@georgetownfleamarket.com, tell them what you're looking for, and the market will try to find a vendor who sells the item. If they find a match, they will send you the vendor's email for you to reach out. You can also make arrangements with vendors to bring your purchased items to the entrance of the market to load right into your car or truck.
Georgetown Flea Market is always welcoming new vendors, and the rates currently range from $30 to $60 a spot. They have some rules for sellers to abide by, which can be viewed on their website at http://georgetownfleamarket.com/cinfo.shtml. You can also email manager@georgetownfleamarket.com if you have any questions.
The Georgetown Flea Market
Every Sunday year-round: 8am – 4pm
1819 35th St NW
Washington, DC