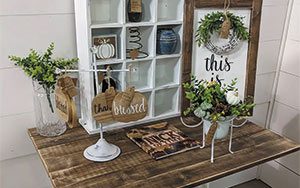 For an eclectic array that changes every day, stroll on down to Me & My Sisters Flea Market in Shelbyville, Indiana. Guests can take a trip down memory lane with antique toys and farmhouse decor or find the latest trend in sporting goods, furniture, and even snacks. This flea market's ever-changing inventory will have you coming back for more!
With a great reputation and helpful staff, Me & My Sisters Flea Market was ranked in "The 11 Best Flea Markets in Indiana" by Flea Market Insiders. Founded by Ana and Kizme, two vintage-loving sisters, this market has over 7,000 square feet of shopping with more than 75 vendors to visit and shop. As an extra bonus, a second building in the market is almost exclusively dedicated to antique furniture. 
The flea market also includes repurposed items, vintage pieces, home decor, and lighting fixtures, plus an assortment of other goods. If you're fond of farmhouse style or French country, you're sure to find something you love. Be sure to check the market's Facebook page for the newest items and special sales. 
If you have a passion for selling, Me & My Sisters Flea Market is always looking for new vendors. Monthly booth rates include 8' x 8' spaces at $130, 8' x 6' spaces at $110, and 8' x 4' spaces at $90. Call Jon for more vendor information at 317-825-0175. 
Me & My Sisters Flea Market
Open Daily 10am – 6pm
Saturdays 10am – 5pm
Sundays 12pm – 5pm
1612 E. State Road 44
Shelbyville, IN 46176
Website: meandmysistersfleamarket.com
Facebook: MeandMySistersFleaMarket