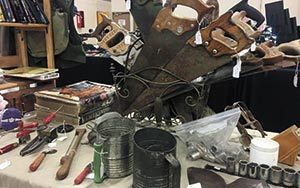 Held five times a year, this flea market is a perfect treasure hunt for collectors, antique fanatics and bargain hunters alike. Treasure Valley Flea Market is held at the Expo Idaho, and their next event takes place from February 15 – 16, 2020
With a $2 per person admission and children 12 and under completely free, Treasure Valley Flea Market makes for a great outing for the whole family. Whether you spend an hour or the entire day shopping, buyers are sure to find something that catches their eye. Items sold at this market include new and vintage toys, home decor, antiques and collectibles, rustic farmhouse pieces, furniture, apparel, specialty signs, and much more.
New vendors are always welcome at Treasure Valley Flea Market. Show dates often sell out, so make sure to get your application in as soon as possible! For more information on exhibiting, call Deana at 208-939-6426 or by "flea" mail at deana@spectraproductions.com. Sellers can also fill out the vendor application online at treasurevalleyfleamarket.com.
Treasure Valley Flea Market
February 15 – 16: Saturday 9pm – 6pm, Sunday 10am – 4pm
March 28-29: Saturday 9pm – 6pm, Sunday 10am – 4pm
ADM: $2, Seniors are $1 and children 12 and under are free
Expo Idaho
5610 N Glenwood St
Eagle, Idaho 83614
Website: treasurevalleyfleamarket.com