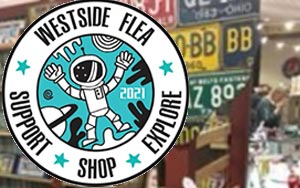 Featuring over 100 vendors, food trucks, live music and entertainment, a balloon artist, a vendor charity raffle, and more, the Westside Flea in Ohio sure knows how to throw a great summer event. Entry is free and pets on leashes are even allowed, making it the perfect outing for the whole family. Don't miss their next summer event, taking place at the North Olmsted Community Park on July 17 from 9am – 3pm, rain or shine.
The Westside Flea is more than just a fun day — the owners love giving back and sharing time with others. During each event, they collect non perishable items for several local food banks from both vendors and shoppers who would like to give back. They also host a fun vendor raffle, where each vendor kindly donates a $10 or more gift item. Anyone who purchases a $1 raffle ticket is entered into a chance to win a vendor item, and all of the money from the raffle is donated to the featured charity for that event. Over the years, the market has raised thousands of dollars for charities such as Special Spaces, Women & Children Shelters, Suicide Prevention, Animal Shelters, and many others.
A big part of the Westside Flea is giving back to their community. At the market, a Free Little Library can be seen, which has recently been turned into a food pantry for those in need. Shoppers can come out to not only support local businesses, but also give back to the community, all while enjoying a day of free fun and entertainment at the same time. Guests can find something at every price point in categories including antiques, jewelry, food, arts and crafts, and many others.
The Westside Flea has two other events in 2021 including August 21 and September 18. Both dates will be held at the North Olmsted Community Park in North Olmsted, Ohio, from 9am – 3pm. Vendors who are interested in selling at their future events can check out the Outdoor Flea Vendor Application here, and the Food Truck Application here.
Westside Flea
July 17: 9am – 3pm
North Olmsted Community Park
28114 Lorain Rd.
North Olmsted, OH 4070
www.westsideflea.com