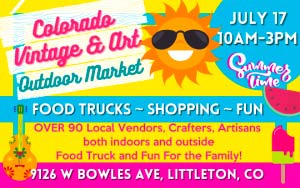 Get ready for some fun in the sun filled with shopping, prizes, and delicious food at the monthly Colorado Vintage & Art Outdoor Market. Guests can shop from local handmade crafters and other booths both indoors and outdoors, and the first 50 customers will receive a VIP bag of goodies, so be sure to get there early!
The Colorado Vintage & Art Outdoor Market brings the community together to offer something for everyone. Their art market and gallery are creative places where local artists, jewelry makers, and craftsmen can be seen and works can be purchased. Some of their vintage offerings include aged and collectible items as well as home decor. Their next event, which takes place on July 17 from 10am – 3pm, will have over 50 outdoor vendor booths and 90 indoor booths to browse through.
This art market is completely free to attend and they will have social distancing policies in place, along with hand sanitizer stations, at their event. Masks are required in order to shop around and keep a safe environment for everyone. Guests can also register here for a chance to win the Grand Prize Drawing. Come and enjoy a beautiful summer day at the Colorado Vintage & Art Outdoor Market, and don't forget to bring your friends and family.
Colorado Vintage & Art Outdoor Market
July 17: 10am – 3pm
9126 W Bowles Ave
Littleton, CO 80123
www.covintageandartmarket.com