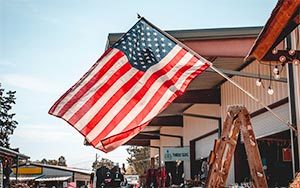 First Monday Trade Days in Canton, Texas is the oldest and largest continually operating outdoor flea market in the U.S. Open one weekend every month all year round, rain or shine, this popular flea market sees around 100,000 shoppers and 6,000 vendors each event. Due to its enormous size and popularity, this market has become THE place to buy home decor, furnishings, antiques, clothing, crafts, jewelry, gifts, collectibles, and more.
What began in the 1850's as an area for people from the town to come and conduct their business and watch a few hangings from court proceedings has turned into a lively weekend event for the community to get together. Fortunately, there are no more hangings and only buying and selling is conducted at the market now. The term 'First Monday' came from those old court proceedings happening on the first Monday of each month. Even though the event goes from Thursday to Sunday, the name is now and will forever be known as First Monday Trade Days.
The next event will take place from March 28th to the 31st from sun up 'til sun down. Parking nearby is available for around $5 a day. New vendors are always welcome to sell their goods and the reservation deadline is March 12th. The payment deadline for vendor spots is March 22nd. You can reserve your spot by calling 903-567-6556. More vendor information can be found on their website at www.firstmondaycanton.com/.
First Monday Trade Days
March 28 – March 31
800 First Monday Lane
PO Box 665
Canton, TX 75103
Tel.: 903-567-6556
Website: www.firstmondaycanton.com/