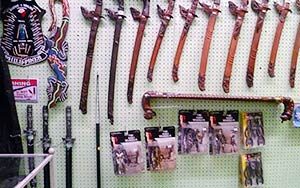 Trade in a hot summer day for hot bargains inside the air conditioned Irvington Flea Market. Open year-round Friday through Sunday from 10am to 5pm, this market has a great atmosphere, good people, a fantastic snack bar and plenty of shopping. So take a break and treat your family or friends to a day at this fun flea!
Celebrating 25 years at the same location, The Irvington Flea Market has been a staple of the Northeast side of Indianapolis. Guests can find all different kinds of unique items including store returns, gently used, artisan products, antiques and even a museum with items on display. This flea has free admission and parking, so it's the perfect inexpensive weekend for anyone.
Some of the vendors at Irvington Flea Market include Natale's Fashions & Watch Repair, Evelyn's Variety, Bargain Bin, P&K Variety and many others. You can see the full list of vendors on their website at http://www.irvingtonfleamarket.com/vendors.html. Visitors will also be able to see the market's mural spanning across the back of the building. This beautiful artwork features all four seasons. Stop by to see the mural and the best deals on new and used items.
The Irvington Flea Market
Every Friday – Sunday from 10am – 5pm
6301 East Washington St.
Indianapolis, IN 46219
Website: www.irvingtonfleamarket.com
Telephone: 317-375-1885