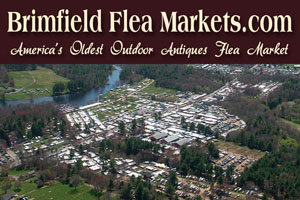 A six-day event is coming to Brimfield, Massachusetts that will have antique collectors and treasure hunters rushing to catch the best bargains. Taking place September 6-11, 2022, the Brimfield Antique Flea Market will be a collector's paradise and shopping extravaganza. 
Since 1959, Brimfield, Massachusetts has been the antique and collectibles capital of the U.S. Today, there are 21 independent shows and thousands of dealers. As the premier hot spot for antiquing and collecting in America, Brimfield attracts shoppers from around the world. Rare and unusual items can be found as buyers search through history's great marketplace. All booths offer a diversified range of antiques and collectibles, and dealers are knowledgeable about their specialities and eager to share their expertise.
Brimfield Antique Flea Markets has three separate events each year, with their fall show taking place this September. For this event, attendees will encounter a larger crowd once again as the summer heat subsides. This is the time where many savvy shoppers will be looking for an end-of-the-season deal. The six-day event runs Tuesday, September 6 at 6am through Sunday, September 11 around 3pm.
Held rain or shine, Brimfield Antique Flea Market provides excitement, with shoppers getting caught up in the spirit of antiquing and the thrill of the hunt. Brimfield is a veritable adventure in history, so you can expect to see merchandise rarely seen anywhere else in the world. For more information, visit their website. 
Brimfield Antique Flea Market
September 6-11, 2022
Brimfield, MA