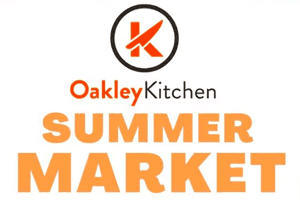 Come and join the Oakley Kitchen Food Hall this weekend for their Summer Market, taking place on Sunday, July 10 from 10am – 4pm. This family-friendly event will feature a wide variety of handmade jewelry, hand-crafted woodwork, vintage and antique items, intricately-designed home decor, coffees and teas, spices, oils, fiber art, locally grown vegetables, and so much more. 
Located in Cincinnati, Ohio, the Oakley Kitchen Summer Market will be held upstairs in the hall where local vendors within the community will be selling their locally-curated products. While you are shopping around, be sure to sip on a drink from The Factory Bar and grab a bite to eat from any of their eight delicious eateries. Jimmy Longbottom of The Longbottom Bird Ranch will also be there from 11am – 3pm with a kiddie pool filled with ducks. Stop by with children of all ages to learn about the endlessly fascinating world of ducks and the benefits of duck eggs. 
Grab your friends and family and come out to support Cincinnati-area makers, artisans, and vintage vendors selling their local, sustainable products in a history venue and food hall. For more information, visit their Facebook page here. 
The Oakley Kitchen Summer Market
Sunday, July 10 from 10am – 4pm
3715 Madison Rd., Cincinnati, OH 45209