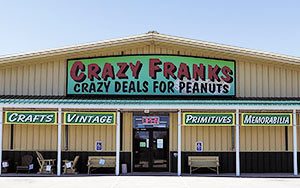 When you come to Crazy Franks, you will find bargains that can't be found anywhere else. With two locations in Readstown and one location in Mineral Point, Wisconsin, these indoor flea markets are open all year round. Guests are guaranteed to shop from a wide range of collectibles and antiques, fine arts and crafts, vintage furniture and home decor, and so much more.
Crazy Franks in Readstown (on Hwy 61) and Mineral Point are both open daily, from 9am – 5pm. The Readstown Flea Market (on Hwy 131) is open Wednesday through Sunday, from 10am – 5pm. So make sure to stop by when you're in the area, all three locations have hidden deals and gems just waiting to be found.
What makes Crazy Franks so unique is the fact that all flea markets are indoors, which means guests can leisurely shop from all three locations and remain dry and comfortable, regardless of the weather or time of year. Each building is 12,000 square feet or larger and all on one floor, making for easy access for shoppers with strollers or wheelchairs. Plan to bring your friends and drive through the beautiful area of Wisconsin and make a day of it! For more information, check out their website at www.crazyfranks.com.
Crazy Franks Sales & Closeouts
Open Daily, 9am – 5pm
611 Hwy 61 S.
Readstown, WI 54652
Readstown Flea Market
Wednesday through Sunday, 10am – 5pm
414 S. 4th St.
Readstown, WI 54652
Mineral Point Flea Market
Open Daily, 9am – 5pm
1246 St. Rd. 23
Mineral Point, WI 53565