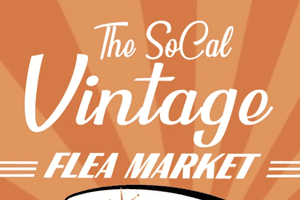 Inside California's largest antique center, a flea market awaits, filled with antiques and collectibles alike. Join King Richard's Antique Center on Saturday, June 25 from 10am – 4pm. It is the perfect time to do some treasure hunting and score deals on antique and vintage items.
Chuck and Martha Garcera have been running King Richard's Antique Center since 2008. Over the years, they have worked diligently to become California's largest and best antique store, boasting quality dealers who sell authentic antiques, collectibles, vintage items, and more. 
Their Saturday market will feature 50 dealers nestled within the 57,000 square foot storefront, as well as Wetzel's Pretzels and ice cream trucks. These delicious snacks will be available to guests from 11am until closing. Uptown Whittier Shakers will also be performing at 11:30, offering some live entertainment while buyers peruse the flea market. Don't forget to enter their raffle for a chance to win some great prizes! The event is free and masks are optional. 
SoCal Vintage Flea Market
Saturday, June 25 from 10am – 4pm
King Richard's Antique Center
12301 Whittier Blvd., Whittier, CA 90602
www.kingrichardsantiques.com