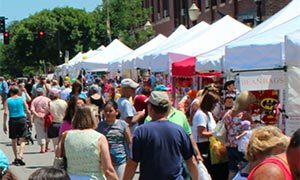 Shower yourself or a loved one with handmade gifts from this arts and crafts fair. Taking place from March 28 – 29 at the College of DuPage Athletic Arena in Illinois, there will be 190 booths selling all different kinds of artisan goods such as home decor, glass products, seasonal items, jewelry, clothing, wooden toys, and so much more.
Karen Yackley has been involved in the craft business for over 30 years. Originally a craft vendor, her venture into promoting events began back in 1987. Learning that a craft show where she had been a vendor in  the previous year was in need of a promoter, Karen volunteered to take it over and doubled the number of vendors and customers within one year.
Karen has continued to stay true to her original goal of creating value for everyone involved with Craft Productions, Inc. She strives to present customers with a unique, high quality handcrafted experience and to provide vendors with an organized, advertised show.
There is free parking at the Show of Crafts indoor show and admission is just $5. Children 16 and under are free. Attendees can also print out a coupon for $1 off the admission fee, which can be found on their website at www.craftproductionsinc.com/coupon.html. Vendors looking to apply to sell their handmade crafts can apply online at www.craftproductionsinc.com/exhibitor-information.html.
Shower of Crafts – Craft & Art Fair
March 28: 10am – 4pm
March 29: 11am – 4pm
College of DuPage Athletic Arena
425 Fawell Blvd
Glen Ellyn, IL 60137
Tel.: 815-878-2728