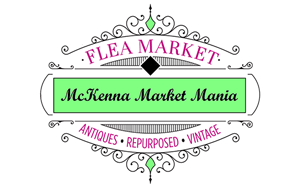 Mark your calendars for the Second Annual McKenna Market Mania Craft and Flea Market taking place in the historical downtown of Gretna, Nebraska. This is your chance to find that one-of-a-kind item you've been looking for!
McKenna Market Mania Flea Market offers the best in antiques, repurposed, and vintage merchandise. Whether you are a collector, antique lover, or just looking for a perfect gift for a loved one, there is something to be found at this unique market. As they say, one man's trash is another man's treasure and you never know what you might find.
Originally scheduled for June of 2020, McKenna Market Mania has been pushed to September 18th and 19th due to COVID-19. The event will take place outdoors so both vendors and guests can feel safe while shopping around and having a fun family day. Don't miss the opportunity to support the local food pantry's booth with a few non-perishable grocery items when you come.
McKenna Market Mania
September 18-19, 2020
On the North end of the Red Brick Road
Gretna, NE 68028
Tel.: 402-332-3336
Web.: www.facebook.com/events/mckenna-market-mania/mckenna-market-mania/2835000386559743/