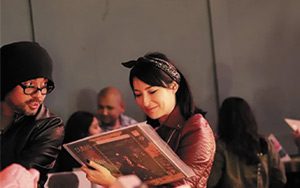 This flea market is perfect for all vintage and rock &  roll lovers, so get your leather jackets out and stroll on over to The Great Rock and Roll Flea Market. Taking place on the first Saturday of every month, around 40 vinyl, clothing and jewelry vendors will be showcasing their products along with other fun events going on.
The Great Rock and Roll Flea Market always has something special in store for each market event. From 11am to 4pm, there will be plenty of shopping, two full bars and all day DJ's playing groovy music.
There will also be a Boozy Brunch Bingo located in the Lovesong Bar just down the street from 1pm to 3pm. Here, guests can play to win concert tickets, t-shirts, and albums. This boozy fun time is free for all ages! Lovesong Bar is located at 446 S. Main St. in downtown Los Angeles.
The Great Rock and Roll Flea Market has tons of family fun activities for everyone and will take place at the Regent Theater. Street parking is available along S. Main Street and S. Los Angeles Street. There are two lots where guests can pay to park across the street from the venue. Parking can sometimes be difficult in the busy downtown area, so carpooling or using a rideshare company might be the best idea.
The Great Rock and Roll Flea Market
The first Saturday of every month, 11am – 4pm
The Regent Theater
448 S. Main St.
Los Angeles CA 90013
Website: www.rockandrollflea.com