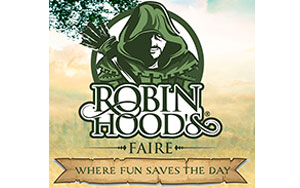 Get ready to have exciting and interactive fun at Robin Hood's Faire in Harwinton, Connecticut. Entertainers travel from around the United States to bring something unique to this Renaissance festival, and the list of performances continues to grow as they get closer to the show.
This faire will take place over the weekends from May 22 through June 20. Each weekend comes with a unique theme, new shows, merchants, and more. Join thousands of other guests who come back again and again to experience these themes along with new contests. Friends & Family Weekend will take place on May 22 and 23, Fantasy & Myth Weekend will be on May 29 and 30, Pirate Invasion Weekend will fall on June 5 and 6, Pets Party Weekend will be celebrated on June 12 and 13, and the Finale Weekend will take place on June 19 and 20.
As guests wander from show to show, they can enjoy different street performances, play games of skill, ride a pony, or participate in various activities. Some of the performers at the faire include The Jackdaws, MooNie the Magnif'Cent, the Sirens, and Daniel Duke of Danger, among others. Many guests call Robin Hood's Faire's old-world marketplace New England's crown jewel of themed arts and crafts, with vendors selling unique wares that cannot be found anywhere else. Some of the booths at the multi-weekend event include Black Swan Armoury, Mystik Mazaar, Cornerstone Creations, and Rose Star Emporium, among others.
This season, Robin Hood's Faire is offering artisans and crafters a special booth rate of only $2 per Square Foot (regularly $2.75). That is just $20 a day for a 10×10 tent to get your products in front of interested customers. If you would like to become a vendor at this faire, apply now on their website at robinhoodsfaire.com/special-offer.
Robin Hood's Faire
Every weekend from May 22 through June 20
150 Locust Rd
Harwinton, CT 06792
Tel.: 860-478-5954
www.robinhoodsfaire.com