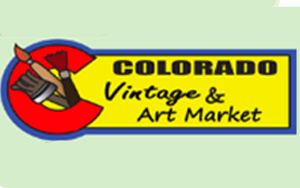 Come and shop from over 50 local vendors, crafters, and artisans to find upcycled and newly created treasures at the Colorado Vintage and Art Outdoor Market. The event will also have some amazing artisanal bites and delicious desserts and drinks. Inside the shop on site, guests can find over 90 vendor booths with various items for sale including home decor, art, essential oils, CBD, jewelry, steampunk art, and so much more.
The Colorado Vintage and Art Market brings together local artists and antique lovers, continuously reaching out to the community and curating events for everyone. Their art markets and galleries are creative places where local artists, jewelry makers, and craftsmen can be seen and works can be purchased. Vintage vendors typically offer aged and collectible items as well as home decor. The market also has a "classroom," with its inspirational teachers, that brings artistic fun and laughter to guests of all ages.
Taking place on Saturday, May 22 from 10am – 3pm, this vintage and art market is the perfect way to spring into the season. Guests can sign up on the website with a General Admission Ticket for the market's Grand Prize Drawing. The first 50 guests will also receive a VIP bag of goodies when they check in, so make sure to get there early! They will have social distancing in place, along with mandatory face mask requirements and hand sanitizing stations.
If you are interested in becoming a vendor at this vintage and art market, email them at CVAMEvents@gmail.com.
Colorado Vintage and Art Outdoor Market
May 22, 10am – 3pm
9126 W Bowles Ave.
Littleton, CO 80123
Facebook: www.facebook.com/covintageandartmarket