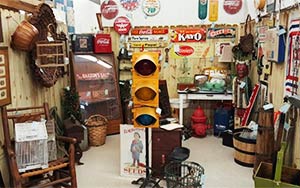 Open seven days a week, Ocala Antique Mall offers a unique shopping experience like no other. This family-run business boasts an authentic 15,500 square feet antique mall to all antique dealers and guests looking to complete their collections. With over 136 vendor spaces, shoppers are sure to leave with at least one treasure.
Ocala Antique Mall offers a safe, fun, and clean environment for both shoppers and dealers. With over 40 years of antiques experience, their staff can help consumers find what they need and cater to dealers as much as possible. The interior of the mall has unique storefront facades taking you back to the 1800s, where shoppers can find quality primitives, Victorian, early American and shabby chic furniture, elegant glassware, porcelain, pottery, sterling, taxidermy, iron, and pretty much anything you need to decorate a cabin or home.
This antique mall is accepting experienced dealers to sell their treasures. If you are interested, please call and speak to Cindy or Paris for any further information regarding booth rental at 352-624-2511. For vendors, Ocala Antiques has a private dealer lounge, loading ramps, private restrooms, surround sound with fun vintage music, 136 booth spaces including lit showcases, and a lot of advertisements to get shoppers in the mall.
Ocala Antique Mall
Monday – Saturday: 10am – 6pm
Sunday: 12pm – 6pm
4425 NW Blitchton Rd, Hwy 27
Off I-75 in the Winn Dixie Shopping Center
Ocala, FL 34482
ocalaantiques.com