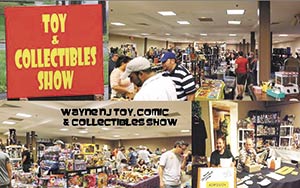 To see the best toys, comics, and other pop culture collectibles, the Wayne NJ Toy Show is a not-to-miss experience, featuring nearly 90 tables of collectibles and all other vintage and pop-culture merchandise you've been searching for from your childhood. For over 25 years, this family-friendly event has offered a dizzying array of movie memorabilia, comic books, action figures such as Transformers®, Star Wars®, G.I.Joe®, Anime®, Funko Pops®, and more.
The Wayne NJ Toy Show has been taking place on the first Sunday of every month consistently since the late 1980's. This event is hosted by Veteri Productions, LLC, the premier organizer and promoter of pop culture conventions in NJ. Come and see for yourself why this is the best and longest-running monthly collectible show in NJ.
Food vendors are on-site and free parking is available. Early bird admission is from 8am – 9am and costs $8 per person, while regular admission is from 9am – 2pm and costs $5 per person. Children under 8 years of age are free. If you are interested in selling your pop culture collectibles, call Joe Veteri at 973-768-6649. Come and sell at the best convention in toys, comics, and other collectibles in NJ!