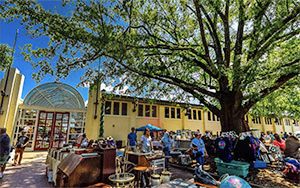 Ranked "Top Ten" in America by CNN, the Raleigh Flea Market is one you don't want to miss. The market's fun, family-friendly atmosphere draws tens of thousands of shoppers every weekend. More than 600 vendors can be seen offering everything from antiques and collectibles to handcrafts, furniture, homemade goodies, clothing, jewelry and anything in between!
The Stewart family founded the Raleigh Flea Market at the Historic State Fairgrounds in 1971. By the 1980's, the market had grown into one of the Triangle's most popular shopping destinations with nearly 1,000 vendors spanning six buildings and several acres on the fairgrounds campus. Now, more than 2.4 million visitors are drawn annually to the largest selection of antiques, jewelry and furniture in North Carolina.
The Raleigh Flea Market is open every Saturday and Sunday from 9am to 6pm, rain or shine. With both free admission and parking, this is the perfect weekend event for the whole family to get out of the house.
Dedicated to serving their community, Raleigh Flea Market invites non-profits, churches or scouting groups to contact them about holding their fundraising events at the market. The organization will select a "featured non-profit" that will receive a prominent spot inside the flea market and promote its name on the scrolling marquee at the corner of Hillsborough Street and Blue Ridge Road. You can call 919-899-3532 for more information and reservations.
Raleigh Flea Market
Every Saturday & Sunday: 9am-6pm
1025 Blue Ridge Road
Raleigh, NC 27607
Website: www.raleighfleamarket.net