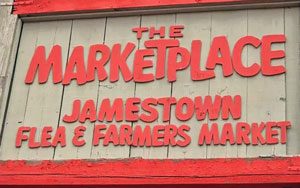 Jamestown Flea Market has been the go-to hometown market since 1983 and is one of North Carolina's most popular markets. Open year-round from 7am to 4pm every Saturday and Sunday, this large flea market has a wide variety of vendors selling produce, clothing, antiques, pet supplies, furniture, and one-of-a-kind items at a bargain.
There is no admission for Jamestown Flea Market, so it's a perfect cheap weekend outing for the whole family. While taking a break from shopping the many vendors, customers can also enjoy something to eat from one of the diverse range of food vendors. There's everything from doughnuts to hotdogs, hamburgers, snow cones and cotton candy, so there's something for every member of the family.
There are also plenty of opportunities for vendors to sell their wares at Jamestown Flea Market. The office is open every Friday from 9am to 4pm to take reservations for Saturday and Sunday. Outside tables are only $6, 10×10 Sheds are $50 every four weeks, and 10×10 Main Building spots are $64 every four weeks. For bigger table prices for both indoor and outdoor spaces, you can visit their website at www.jamestownfleamarket.net. Call 828-584-4038 to make a vendor reservation.
Jamestown Flea Market
Saturday & Sunday: 7am – 4pm
709 Jamestown Road,
Morganton, NC 28655
Website: www.jamestownfleamarket.net