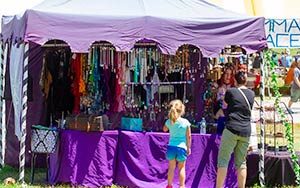 The story continues on at Midsummer Fantasy Renaissance Faire in Ansonia, CT. Each year, over 100 costumed characters come to life at the faire and create a fully interactive experience for attendees. Handmade artisans and stage acts come from all over the country  to sell their wares and entertain consumers of all ages. What makes this renaissance faire different from the rest is their storyline.
"We have an original storyline that is written differently every year and based in the original world we created nine years ago," Daniel GreenWolf, co-owner and magician of Midsummer Faire, said. "We've created this entire world that jumps through time over several hundred years since our very first faire. We're committed to creating an experience that's different for people."
Original and Unique Storyline

No other faire has a storyline quite like this. Based on their original storyline, a great war happened and the first three years were spent talking about it and the person trying to take over. Each year, they change the land and move around the fairgrounds to go along with the new part of the story. GreenWolf said they will be finishing a rather big storyline this year through one of the villains with a giant wrapping-up of everything to end it, and they will do something else for next year.
"Our goal of the faire is to inspire imagination," GreenWolf said. "We've actually had a few people write fanfiction stories inside of our world, and a member of our crew created a web series with the characters in our world. The writing process is great and crazy; no other faire has this."
Non-Stop Live Action Entertainment

This year, Midsummer Faire has some amazing, new acts coming. Paolo Garbanzo, a juggler who's performed for crowds all over the U.S. and Europe and was also given a Lifetime Achievement Award by the International Juggling Association, will be at the faire for a weekend. Another national music group, The Crimson Pirates, will be back with exciting tunes for guests.
There will also be a variety of performance acts from groups such as Knights of Gore, The World of Wyck and Christopher the Witch Doctor for non-stop entertainment all day long. There is so much to see at Midsummer Faire that just one day won't do it justice.
Merchants and Food Galore

There will be over 70 artisan vendors from all across the country selling handmade items such as clothing, jewelry, oils, incense, pottery and so much more. There will even be a metalsmith with custom metal jewelry and demonstrations. Pubs and taverns will line the walkways with plenty of delicious food and drinks for guests to graze on as they enjoy a show.
"I've been performing at Midsummer Faire since the very beginning in 2011," GreenWolf said. "Nine years ago I was kind of unknown as a general manager, but I brought in people who were just as enthusiastic as I was to learn and grow and everyone has done an amazing job with the faire. Nobody is doing it for the money, we do it because we love it and it shows."
The Midsummer Fantasy Renaissance Faire will take place on the weekends from June 22nd to July 7th. Each day, the faire will be open from 11am to 6:30pm, and Saturday night shows are from 7pm to 9pm, rain or shine. There are plenty of tents around the faire for guests to stay dry and the bathrooms are inside a building. They are no longer accepting vendor applications for this year, but next year's applications go up in February. Spots fill up fast, so make sure to mark your calendars!
Midsummer Fantasy Renaissance Faire
June 22-23, June 29-30, July 6-7 2019
Warsaw Park
119 Pulaski Highway
Ansonia, CT 06401
Website: www.mfrenfaire.com