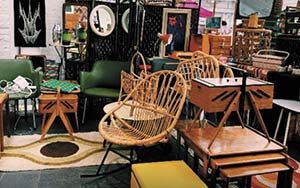 The 8th Annual Mid Mod Madness Vintage Market offers loads of vintage shopping, a home tour and cocktails and karaoke. Located in Des Moines, Iowa, every October has brought good vibes and shoppers from all over to this vintage market. The shop hop is completely free for guests, but the home tour requires tickets, which can be purchased on the website.
The Mid Mod Madness Vintage Market will take place on October 19th. The home tour ticket not only gets buyers a tour guide and maps, but the price also includes early bird admission from 8:00am to 10:00am to the vintage market, one ticket to see Surf Zombies live and one signature cocktail or mocktail. Event tickets are $40 per person, which is a good deal for all the goodies you'll be getting.
The shop hop is open to the public from 10:00am to 6:00pm. Taking place at select vintage stores in Des Moines, each shop will also serve free drinks and hors d'oeuvres as well as in-store specials. From 6:00pm to 9:00pm, attendees will be able to enjoy music and libations at Hello, Marjorie, making this event one full day of fun activities from start to finish.
Mid Mod Madness Vintage Market
October 19th, 10:00am – 9:00pm
1501 Grand Ave.
Des Moines, IA 50309
Facebook: https://www.facebook.com/MidModMadness/