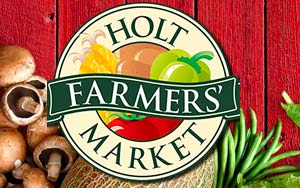 From fresh produce and food trucks to homemade salsa and bread, Holt Farmers Market offers a plethora of delicious food items every Saturday throughout the year. The market also hosts a number of musical entertainers and events certain weekends so guests can enjoy while they shop around.
As an advisory committee, the Holt Farmers Market was created to provide local people the opportunity to buy wholesome and locally-made produce, support local farmers and food growers, educate residents about the variety and quality of the area's rich agricultural heritage, support and showcase local artisans, and serve as a stepping stone for new businesses. They are housed in the former Delhi township Fire Department building, making them one of Michigan's premier indoor farmers markets.
With thousands of square feet of selling space available, as well as additional spaces outside, the Holt Farmers Market is a premier area for vendors large and small to come and sell their goods. If you are interested in becoming a vendor, you can download their vendor application on their website at holtfarmersmarket.org, as well as the vendor handbook and policies. You can also contact manager Chuck Grinnell at 517-268-0024.
Holt Farmers Market
Every Saturday from 9am – 2pm
2150 Cedar Street
Holt, MI 48842