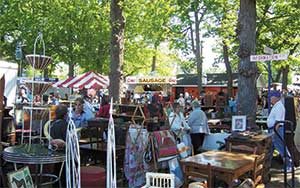 Featured in a host of publications as one of the top antiques markets in the country, The Allegan Antiques Market offers shoppers unique flea finds and one-of-a-kind collectibles. The market is located in downtown Allegan's County Fairgrounds and takes place on the last Sunday of every month from April through to September.
First opening their doors in 1978, The Allegan Antiques Market has exhibitors carrying a large variety of antiques and collectibles with many specializing in glass, pottery, china, primitives, advertising, vintage jewelry, furniture and much more. With over 400 dealers, including 200 inside vendors for all weather shopping, everyone can find a special trinket to take home.
The market is a growing family business, with Larry and Lori Wood adding their children to the staff. With the addition of new buildings and an expanded exhibitor area, the market has grown to be Michigan's largest antique show. There are also areas to get delicious food and dedicated picnic spots.
The Allegan Antiques Market opens at 8am and offers free parking. Admission is just $4 per person, so it's a decent price for the whole family to enjoy a day at this famous show. Recent trends in the home design field have made the show a hot spot for architectural, industrial, primitive, country, shabby chic, refurbished, repurposed and every kind of antique or collectible decorator item imaginable.
The Allegan Antiques Market
Last Sunday of every month: 8am – 4pm
ADM: $4
Allegan County Fairgrounds
150 Allegan Co Fair Drive
Allegan, MI 49010
Website: alleganantiques.com