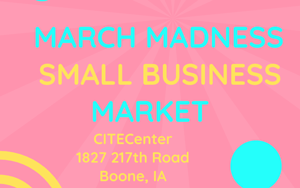 All crafters and vendors are welcome at this March Madness flea market event. Taking place on March 14th, the craft and vendor show will be held at the CITECenter located on the Central Iowa Expo Grounds. There will be various booth sizes available, and all products are welcome!
Beginning in 2013, Tami Sue has grown the flea market  from a small event of 14 vendors once a year to multiple events every year, with each show hosting 65 to 115 vendors. Tami enjoys bringing talented crafters and direct sales consultants together and having a fun market atmosphere for shoppers and vendors alike.
The March Madness Event is expected to host more than 65 crafters and vendors for the ultimate shopping experience. The show will be heavily advertised via signage, banners, Facebook and other means. Admission is $1 per person, and there will be plenty of concessions on site as well as lots of parking and door prizes throughout the event. For more information, contact Tami at eventsbytamisue@gmail.com.
March Madness Small Business Event
March 14th, 9am – 4pm
1827 217th Rd., Boone, IA 50036
Tel.: 515-230-9199
Web.: eventsbytamisue.wixsite.com/website/event-info/march-madness