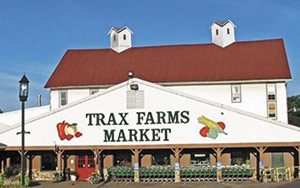 Let a little bit of wine warm your winter spirits this season at Trax Farms Winter Wine Festival in Pennsylvania. There will be live music, plenty of food trucks, and of course wine sampling. Tickets will get guests unlimited wine samples, so you can sip and walk around as you please. A portion of the proceeds for this event will benefit Finleyville Food Bank.
Advance tickets cost $15, and day-of tickets cost $20. Adults 21 and older only are permitted at this event, so please don't bring your kids. Wine glasses are not provided with the cost of the ticket and the wineries will provide sample cups. Wine glasses can be purchased at the festival, if you're looking to bring home a souvenir for you or a loved one.
Some of the participating vineyards at the Winter Wine Festival include Arrowhead Wine Cellars, Wine O'Clock Somewhere Winery, Christian Klay Winery, R Wine Cellar Urban Winery and Bee Kind Winery, among others. Food trucks offering delicious food will also be on site, such as Pita My Shawarma and Benvenuti Pizza. The ticket price does not include food, which is available to be purchased separately.
Make a day of this festival and try some different delicious wine and food!
Winter Wine Festival
Saturday, February 22nd 12pm – 4pm
ADM: $15 for advance tickets, $20 for same day tickets
528 Trax Rd.
Finleyville, PA 15332
Website: traxfarms.com/events/winter-wine-festival