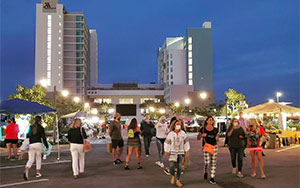 Once the sun goes down on Friday night, vendors lay out their curated collections of handmade and upcycled merchandise, and music fills the air. Complimentary yoga starts at 6pm, and begins to set the scene for a memorable Lauder Night.
This new night market located in downtown Fort Lauderdale, Florida, showcases local artisans selling handmade and re-made merchandise, as well as fresh produce. Join them every Friday for the Lauder Night Market from 5:30 – 9:30pm. Inspired by the famous Temple Street in Hong Kong, this curated night market is produced by UniteUs Group. For the safety of both attendees and vendors, the market will have hand sanitizer stations on either end of the marketplace site and require individual vendors to have sanitizer available to guests at their stations.
If you are a handmade vendor in the Fort Lauderdale area and want to come and sell your treasures, you can apply to become a vendor on their website at www.laudernightmarket.com. The market runs every Friday night until May of 2022 at Peter Feldman Park. The vendor fee is $50, which includes a 10 x 10 space to sell your goods. Sellers should bring a 10 x 10 canopy in case of inclement weather, a table, extension cords and lighting since power will be accessible, hand sanitizer for guests, and weights for your canopy in case of wind. Load-in begins at 3:30pm, and breakdown occurs between 9:30 and 10:30pm.
Lauder Night Market
Every Friday night from November 2021 – May 2022
Peter Feldman Park
310 NE 6th St,
Fort Lauderdale, Florida 33304